Peaceful Places is a VR experimental project by Margherita Landi and Agnese Lanza, the winner of the Auggie Awards USA 2021 in the category Best Art or Film, which explores a new form of language, the affective one.
Using the instrument of imitation, it is possible to simulate the gestures of the couples around us, listen to the energy generated by their hug and recreate the same experience.
Peaceful Places is a virtual reality dance experience in which the headset becomes the media to find familiarity with the human instinct of the hug.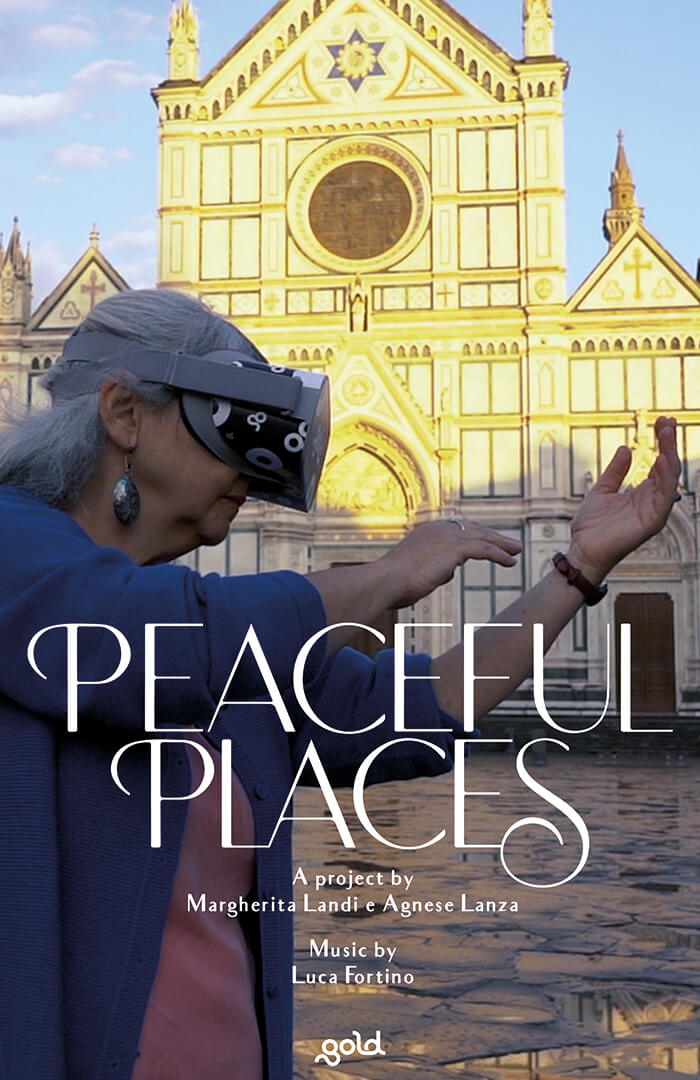 Peaceful Places
Genre: Film danza in virtual reality
Year: 2021
Produced by: Omar Rashid, Luca Fortino Alessandro Mancini, Pierfrancesco Pisani
Directed by: Margherita Landi, Agnese Lanza
Production company: Gold
Cast: Mirko Cuttini, Sara Della Mora, Margherita Landi, Agnese Lanza, Iris Pellizzari, Armando Puicher, Daria Rizzardi, Giada Rossi, Anna Toscano, Enea Zancanaro, Andrea Astolfi, Isabella Braconi, Cosimo Lombardelli, Flavia Bocchino, Rosa Vitrugno
Editing: Sasan Bahadorinejad e Cosimo Lombardelli
Post production: Sasan Baha, Cosimo Lombardelli
Music: Luca Fortino aka Ugly Shoes
Choreography: Margherita Landi, Agnese Lanza
Graphics: Azzurra Giuntini
Presskit
Awards:
Auggie Awards USA 2021 winner
Category: Best Art or Film.